OUR OWN BRANDS
ADDING VALUE THROUGH SAFETY, RELIABILITY, COMPETENCE AND SERVICE.

EURES' in-house brands occupy an important place within our extensive range. Throughout the development and production of our in-house brands, we focus on the leading manufacturers with mass-marketable products, who consistently deliver the highest quality. The only way to effectively control the price to performance ratio is via the leading technology innovators. Innovative, reliable technology and unique product and packaging design are what set our own brands apart and make them unmistakable.
UNSER ENTSORGUNGSHINWEISE
1. LED LEUCHTMITTEL
LED Leuchtmittel enthalten wertvolle Inhaltstoffe und müssen dem Recyclingkreislauf zugeführt werden. Dafür stehen bundesweit Wertstoffhöfe und Sammelstellen zur Verfügung die Ihre LED- Leuchtmittel kostenlos entgegennehmen.
Entsorgung ist Ehrensache!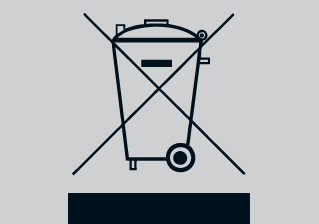 2. GLÜHBIRNEN UND HALOGENLAMPEN
Glühbirnen und Halogenlampen werden nicht wiederverwertet, weil es keine Inhaltsstoffe gibt, die dies erfordern. Deshalb dürfen und sollen sie mit dem Restmüll entsorgt werden. Halogenlampen enthalten zwar Halogene, diese sind jedoch auf Grund der verschwindend geringen Mengen bei der Entsorgung nicht von Bedeutung.
Glühbirnen oder Halogenlampen gehören nicht in den Glascontainer! Glühbirnen gehören nicht in die getrennte Sammlung!
Glas für Flaschen und Gläser unterscheiden sich vom Glas für Lampen und Glühbirnen. Deshalb führen fälschlicherweise in den Glascontainer geworfene Leuchtmittel zu erheblichen Problemen beim Recycling.
Glühbirnen und Halogenlampen sind über den normalen Hausmüll zu entsorgen.